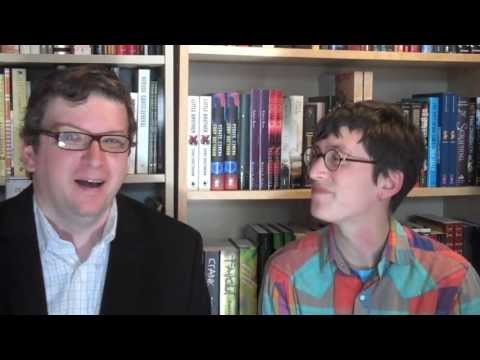 the adventures of jenn I(n) R(eal) L(ife):... →
What an amazing piece of writing. Thank you, Jenn. Bring on the apocalypse! jennirl: Start with one can of chili, and several other cans of things that you think should be in chili. For example: Corn. Stewed tomatoes. Various types of beans. I am not great at feeding myself. Not in a diagnosable way — more in the sense that if I gave in to my inclinations I would exist solely…
Did somebody say TREAT??!! →
These two rat terriers outside of the bookstore were so cute! And now they have been GIF'ed!
3 tags
5 tags
Watch
Best 15 seconds of my day: baby wearing a bowtie shirt hands me a book, and then has a touching moment with Eeyore the cat.
"The tone she had adopted helped me speak about my illness in a way that I..."
– Helmut Dubiel, Deep in the Brain: Living With Parkinson's Disease So eloquently put, and perhaps it illuminates the power of narrative and the reason that we get so much out of "depressing" fiction.
"Experience has taught me that you cannot value dreams according to the odds of..."
– Sonia Sotomayor, My Beloved World
4 tags
"So now we are done playing the way they want us to play. Now we are moving to..."
– From galley of Babayaga by Toby Barlow, due out in August, and with whom I'm excited to have dinner with tonight!!!
Our mailman just sang Happy Birthday to the store....
AARRRRHGGGGH HOW DID I MISS THIS???!
4 tags
2 tags
Roxane Gay is Spelled With One "N": Hideous... →
roxanegay: Today, I am done with tired, gratuitous references to the appearances of attractive women writers in discussions of any kind about their books. And also, it's weird that I have to be done with this in 2013. I literally had to double check my calendar last night, in case I was in a time warp. I was…
Nimble Operator
I've been watching — really watching — the construction and sewage maintenance they've been doing on my street this week. And the more I watch, the more I'm convinced that I am observing significant talent. Specifically, the talent of the mechanical shovel operator. The internet suggests that it is actually called the "hydraulic excavator," and its...
"From birth, our vocal cords work like fingerprints, telling the unique tales of..."
– Elena Passarello, Let Me Clear My Throat
3 tags
When I'm trying my hardest to get a project done...
lifeinpublishing: (submission from C. Fawcett, thanks!)
4 tags
2 tags
3 tags
"[Hubbard] could easily invent an elaborate, plausible universe. But it is one..."
– Going Clear by Lawrence Wright
1 tag
1 tag
Which one?
Jenn: Bros before hos, my friend.
Emily: Which one am I?
3 tags
Part 3 of 3: Emily's Favorite Reads of 2012
One of the perks of working in the book biz is that we get to read stuff early! Here are some of my favorite books to be published in 2013, read in 2012: Artful by Ali Smith (January 2013) - This one reminds me of Winterson's nonfiction prose, especially in Art Objects.         Eighty Days: Nellie Bly and Elizabeth Bisland's History-Making Race Around the World by Matthew Goodman...
2 tags
Part 2 of 3: Emily's Favorite Reads of 2012
Favorites published before 2012, read in 2012: Forever by Pete Hamill (2003) - my favorite non-2012 read of the year, hands down. This one gripped me, reminded me, in ways, of Cloud Atlas, and made interesting and accessible the history of New York, my newfound home. Vietnamerica by GB Tran (2011) - I don't know what it is about the comics medium, but memoirs told in this way are so...
2 tags
Part 1 of 3: Emily's Favorite Reads of 2012
Here are some of my favorite books of the year that were published in 2012: The Underwater Welder by Jeff Lemire - I love Lemire's literary comics so much, and this one is a beautiful story about the ways we cope with the ghosts of our pasts.    The Song of Achilles by Madeline Miller - A surprisingly stunning and absorbing telling of the relationship between Achilles and Patroclus, and...
1 tag
1 tag
1 tag
1 tag